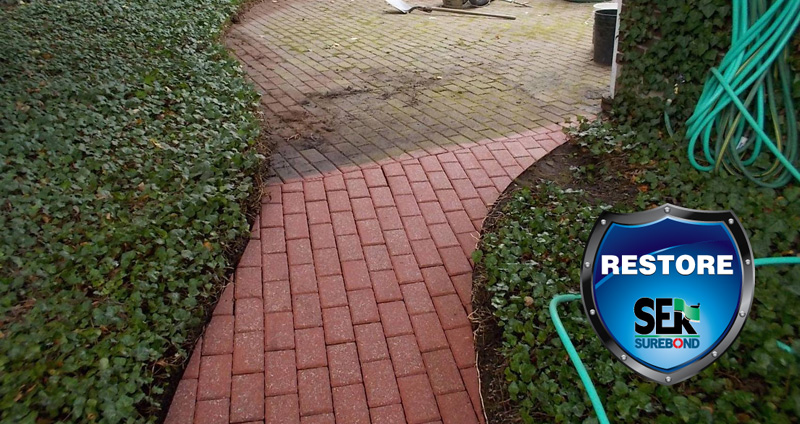 Surebond Multi-Use & Specialty Cleaners for Pavers, Natural Stone and Concrete will Restore & Maintain Your Hardscape Investment
Paver and natural stone hardscapes are a BIG investment that can provide years of beauty and enjoyment if well maintained.  Once the hardscape installation is complete, it is the ideal time to seal the surface and start following the appropriate maintenance schedule so it achieves maximum performance and remains beautiful through the years.  However, it is never too late to restore and protect a hardscape installation.  It's easy to do with SEK-Surebond's step-by-step Hardscape Restoration & Maintenance System that can make an old hardscape installation look like new again.

In the past, the hardscape industry has sold concrete pavers and natural stone as a maintenance-free investment that will last a lifetime even if nothing is done to maintain them.  Undoubtedly, over time, mother nature will take its toll on the hardscape's original beauty.  It is not uncommon to experience stains, general dirtiness, weeds and other factors leading to the loss of a hardscape's luster and beauty through the years.
Hardscapes are a substantial investment and can cost as much as a new car or even more.  Shouldn't that new hardscape investment be maintained on a proactive and regular basis just like a car?  Of course it should, and SEK-Surebond has safe, powerful multi-use and specialty cleaners designed specifically for maintaining and restoring hardscape and concrete surfaces.  Plus, we have laid out an easy to follow, proactive maintenance schedule to assist preserving the beauty of a hardscape investment through the years.
Complete Hardscape Restoration Product Line
Multi-Use & Specialty Cleaners
Safe, Powerful & Fast Acting
Clean Rinse Technology
Prepares Unsealed Surfaces for Sealing
Ideal for Hardscape & Concrete Surfaces
Click below to open up the tab to reveal more information.
Surebond Cleaners Helpful Information
Multi-Use Cleaner
Sealer Strippers
Specialty Cleaners