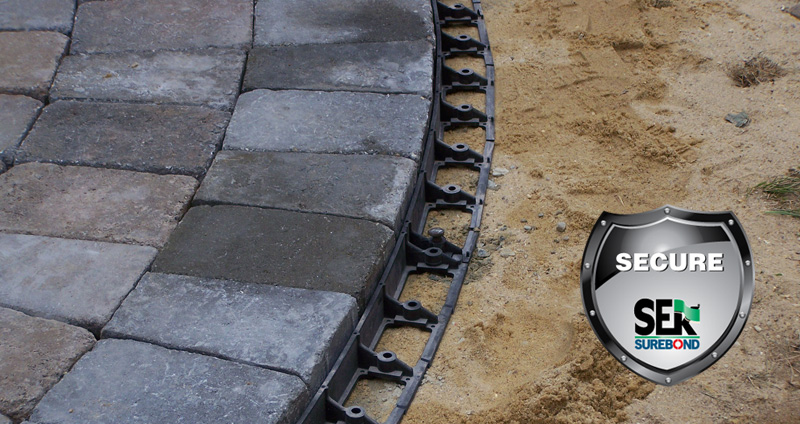 Secure the Edge with a Superior Strength, Quality Paver Restraint From SEK-Surebond
Paver restraints secure the hardscape system and are a necessity in any hardscape project installation if you want it to last and look beautiful through the years.  To avoid the high cost of paver restraint failure and ultimately protect your reputation, carefully consider the many factors that affect the paver restraint's performance over the lifetime of a paver project. Choose a top quality and superior strength paver restraint from SEK-Surebond. Quality makes the difference!

Snap Edge Paver Restraint is a contractor grade product, designed to be used with pavers or natural stone 2" – 3  1/8" thick. It's injection molded design incorporates features that provide strength and stability. Snap Edge was first introduced over 30 years ago and has helped discerning contractors build smart ever since.  Click here to learn more.
Low Profile Paver Restraint is a contractor grade product engineered for natural stone, cast stone, slabs and pavers less than 2" high. Low Profile incorporates many of the same strength building features as Snap Edge.  Click here to learn more.
EdgeCrete is the newest addition to our paver restraint line up and designed to be used for open graded base hardscape systems. It is a polymer modified, fiber reinforced paver restraint that comes in a bag. Just add water to the mix and install.  Click here to learn more.
Barrier is the perfect product for homeowners and do-it-yourselfers to create a permanent barrier between different landscape materials.  It is easy to install and gives professional results which also makes it a good choice for contractors.  It can be used as a landscape edging or paver edge restraint. Click here to learn more.
PermEdge is an inexpensive and less cumbersome alternative to concrete curb in residential and light commercial permeable applications. PermEdge has the same great features as Snap Edge with the addition of a permanently attached geogrid anchor.  Click here to learn more.