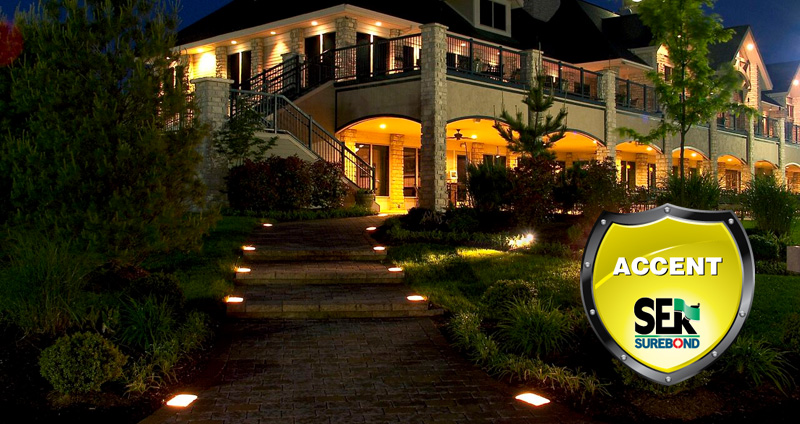 Create Beauty and Instill Pride of Ownership by Adding the Finishing Touch
of Kerr Lighting for Pavers, Retaining & Seat Walls, Pillars & Steps and More!
Accent a hardscape investment by lighting it up so it is just as beautiful at night as it is during the day. Lighting is an affordable option that enhances the beauty of a patio, walkway or driveway. It can be easily incorporated into a new hardscape installation or can be added to a previously installed hardscape with relative ease. Hardscape Lighting can help to create a unique design, accent and feature selected areas, improve value and add the finishing touch.

Kerr Lighting Offers Many Advantages
Easy DIY Installation – Kerr Lights are offered as a 12 volt system that are safe and simple for even the do-it-yourselfer to install.
Variety of Styles Available – There are many sizes and shapes available including brick and cobble style paver lights, garden wall and retaining wall block lights and low profile LED lights that fit under steps, wall caps and pillar caps.
Durable & Long Lasting Fixtures – Kerr Lights are made of extremely strong, impact resistant plastic that will not rust and can withstand the load of light vehicular traffic.  Kerr Lights are tough and can hold up to extreme weather conditions: heat, cold, snow and rain.
Affordable In-Hardscape Lighting Solutions – Affordable lighting that fits right into a new or existing hardscape.
Click below to open up the tab to reveal more information.
Kerr Lighting Helpful Information
Q: How do I determine the number of lights that I can have on a transformer?
A: When you buy a Kerr Lighting Kit, the transformer included in the package is sized to accommodate the included lights. Should you decide to add lights to the Kit, or when planning a project with individual lights, the wattage of the transformer must exceed the total wattage of the lights on the line. For example, if your project includes 10 lights on a line, each with a 7 watt bulb, the transformer must have at least 70 watts of power (10 lights x 7watts each).
If you purchase or have an existing transformer make sure that it can accommodate a 12 volt system.
Q: Can I use a stronger bulb in my light than the one that it came with?
A: Yes you can, provided the total wattage of the lights on the line does not exceed the total wattage of the transformer. Do not use a bulb higher than 11 watts.
Q: Can I use my Kerr lights with an existing low voltage system?
A: Absolutely. As with all low voltage systems, make sure the transformer can accommodate the total wattage of the lights connected to it.
Q: Can I drive over my paver lights?
A: Paver Lights are made from high-strength polymer plastics and are engineered to withstand the weight and pressure of light vehicular (cars and light trucks) loads as long as they are flush with the pavers.
Q: The lights at the end of the line seem to be dimmer than those at the front. What's happening?
A: Lights closest to the transformer will receive more power than those further down the line. If a cable run is too long or if too many lights are being powered by a single transformer, noticeable voltage drop may occur. Voltage drop causes the lights farthest from the transformer to become dim. Voltage drop can be minimized by: using a heavier gauge cable (Kerr Lighting recommends a maximum power cable length of 100 feet on 16/2 cable and300 feet for 12/2 cable), using a transformer with greater wattage, using multiple transformers, shortening cable lengths, or reducing the total number of fixtures on a run by making multiple runs.
Q: Can I retrofit Paver Lights into an existing hardscape installation?
A: If you have concrete or clay brick pavers that are not set in mortar, it's easy to install Paver Lights. Most times it's simply a matter picking up the border pavers, installing the power cable underneath, installing the lights, and then reinstalling the pavers.
Q: Where can I find replacement bulbs for my Kerr lights?
A: Low voltage bulbs are readily available at most retail home centers, hardware stores and other retail locations. Sockets hold a T5 Wedge Base bulb.
Q: How will my paver lights perform in snow and ice?
A: When installing paver lights in areas where there may be snow, make sure that the fixtures do not protrude above the surface so they don't get caught by the edge of a shovel or plow. The lights themselves give off enough heat to melt any snow or ice that may accumulate.
Q: Can I run a plate compactor over my paver lights?
A: When using Kerr Paver Lights in a new installation, light lenses can be scratched by plate compactors if not protected. Please cover the lens with cardboard or a similar protective material to ensure that it does not become damaged during compaction.
Q: How should I handle my paver lights when cleaning and sealing my pavement?
A: Do not apply paver cleaners or sealers to the light lens to prevent discoloration.
Q: Does my power supply cable have to be installed in a hard conduit?
A: No. The low voltage cable can be buried directly in soil, sand, or stone.
Q: What are the white "L" shaped clips that came with my 4 x 8 Paver Lights?
A: The clips are inserted into the holes in the bottom of the Paver Light so that the pavers on either side will hold it in place.
Q: Can I install Paver Lights in a concrete patio, walkway, or driveway?
A: Yes you can, but we recommend using the 4 x 8 brick shape only. You'll have to notch the concrete to accommodate the fixture. Make sure there is free-draining stone under the light or drill holes in any concrete that may remain.