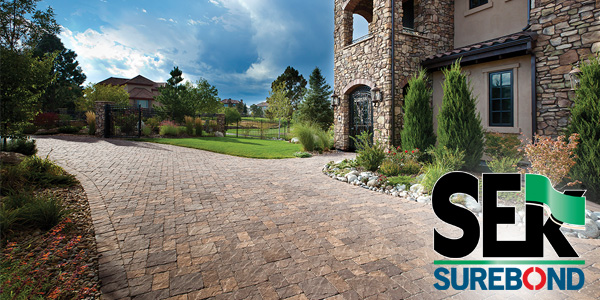 THANK YOU FOR VISITING OUR WEBSITE
Whether you are a reseller or a user of our products, SEK-Surebond is pleased that you have confidence in our products and services for your hardscape project.  For over 25 years, we have been strategically focused on developing the very best solutions for the industry. The quality of a hardscape installation is certainly influenced by the choice of products you use. It is, and always will be, our goal to provide you with high performing products that are easy to use, work great and last as long as we say they will.  And, just as important, that they offer you NO post installation problems.
WHO WE ARE
That said, we wanted to share some information with you about who we are as a company and what makes us a good choice versus all the options available to you.  It all boils down to our core values and business principles that help you succeed with our products.  Your success determines our success.  So, this is who we are:
We are a company of ideas
We are a company that innovates
We are a company of resources at your disposal
We are a company that cares about your success
We are a company of service providers
We are a company that trains
We are a company that responds when you call
We are a company that invests
We are a company that leads the industry
We are a company that is national but operates locally

OUR PRIMARY GOAL IS TO HELP YOU SUCCEED
There are many more things that make us a good partner. In the end, all of these things that make up who we are, are delivered by the people we employ. Our team of people is our greatest asset.  This team works tirelessly to service your needs in an aim to exceed your expectations. Again, our primary goal is to help you succeed.  Our success is determined by your success.
Thank you for choosing SEK-Surebond.
We look forward to succeeding together for many years to come.