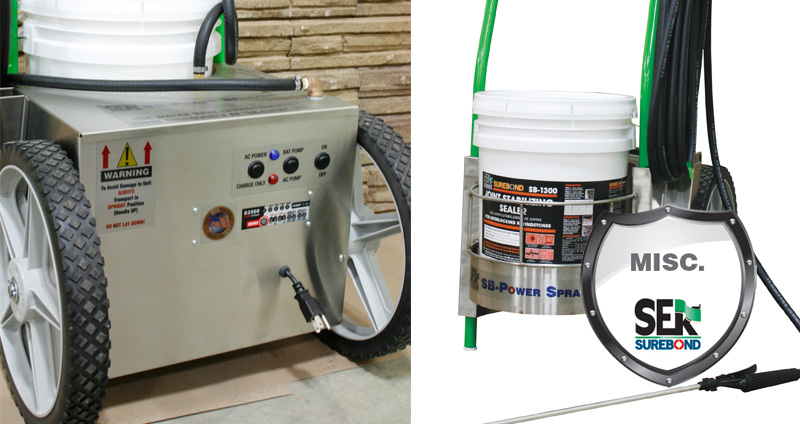 Tools & Accessories: SB-Power Sprayer, Steel & Composite Spikes
and SEK-Surebond Paver Jointing Sand
SEK-Surebond offers a variety of tools and accessories that assist with the installation and application of some of our products. Highlighted below are the SB-Power Sprayer, Steel and Composite Spikes, and SEK-Surebond's Segmental Pavement Joint Sand. We also offer Double Foam Squeegees and Foam Roller Covers to be used during sealer application as well as caulk guns for adhesive application.
Save Time and Money with the SEK-Surebond SB-Power Sprayer
The SB-Power Sprayer is a completely self-contained, cordless sprayer with industrial grade sprayer components and a rugged handcart. Its design ensures long term durability and dependability for both residential and commercial project use. The ease of application is sure to reduce labor cost to a fraction of what it would be using a traditional handheld or back pack sprayer.
Rugged Stainless Steel Construction with Chemical Resistant Components
EZ Loading with Standard 5 Gallon Pails
Dual Power Source
— Gel Cell Battery with Built-In Battery Charger Using Battery Tender Technology
— Runs Off of 110V Cord As Well
Single Charge Provides 6 Hours of Usage and Applies Up to 720 gallons of Sealer
Up to 2 Gallons Per Minute Application Rate
20 Ft. Heavy Duty Hose
Built In Ergonomic Hand Grips
SEK-Surebond Steel and Composite Spikes Hold Snap Edge
and Low Profile Paver Edging in Place
Quality 8″ and 10″ spikes are available in steel and a glass filled and impact modified composite. They are 3/8″ in diameter and fit perfectly in the nail boss of Snap Edge and Low Profile Edge Restraints.
Ensure Long Time Performance of the Pavement System
with SEK-Surebond's Joint Sand for Segmental Pavement
An important part of the paver installation process is the installation of the proper jointing sand. SEK-Surebond Paver Joint Sand will properly complete the interlocking of the segmental pavers because it is clean, angular and meets ASTM-C144 specifications. This type of sand is more stable in the paver joints and has the optimal gradation to ensure long term performance of the pavement system. SEK-Surebond Paver Joint Sand is ideal for use with SEK-Surebond Joint Stabilizing Sealers.
Angular Jointing Sand Meets ASTM-C144 Standards
Recommended for Joints Up to 3/4″
Washed, Screened & Dried
Convenient 50 lb Bags
Available in Tan, Gray and Platinum
 Click below to open up the tab to reveal more information.
SB-Power Sprayer Helpful Information
Joint Sand Helpful Information
Steel & Composite Spikes Helpful Information