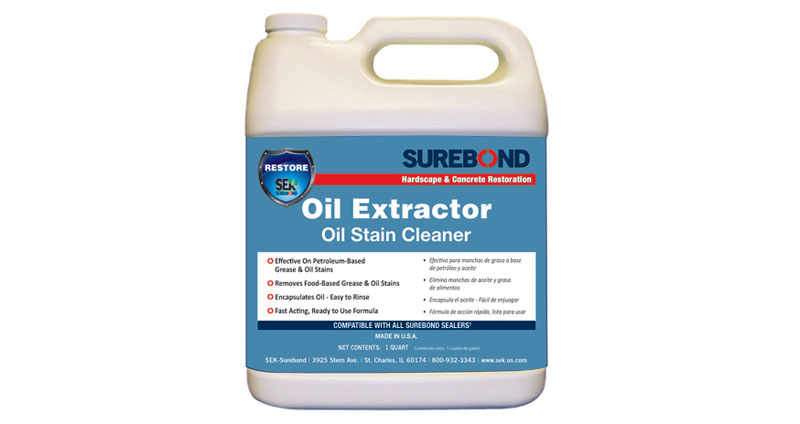 Oil Extractor
Oil Stain Cleaner
Effective on Petroleum-Based Grease & Oil Stains
Removes Food-Based Grease & Oil Stains
Encapsulates Oil – Easy to Rinse
Fast Acting, Ready to Use Formula
Oil Extractor is a powerful, alkaline-solvent based oil spot cleaner with an advanced biodegradable formula that dissolves, encapsulates, and removes petroleum and food based oil and grease particles from the substrate. Oil Extractor's Clean Rinse Technology rinses away quickly with a high or low pressure washer. Oil Extractor's biodegradable and environmentally friendly phosphate-free formula replaces several types of harsh acid cleaners.
Suitable Surfaces
Ideal for concrete and clay pavers, concrete flat work and retaining walls. Can also be used on manufactured and natural stone, concrete block, and wet cast products. Works on both horizontal and vertical applications.  Not for use on asphalt.
Oil Extractor is compatible with all Surebond Sealers with proper dwell time and application. Misuse may cause damage to the sealer. A test area is always recommended to determine product suitability and compatibility with your specific surface before use and also if desired results are achievable.
Coverage
| Application | Sq.Feet | Sq.Meters |
| --- | --- | --- |
| All Surfaces | 25 – 60 | 2.3 – 5.6 |
Coverage rates will vary from 25 – 60 sf per quart depending on the surface porosity, texture, severity of staining, application method and other local conditions. Coverage based on single treatment. Some applications may require additional treatments.
Click below to open up the tab to reveal more information.
Oil Extractor Helpful Information