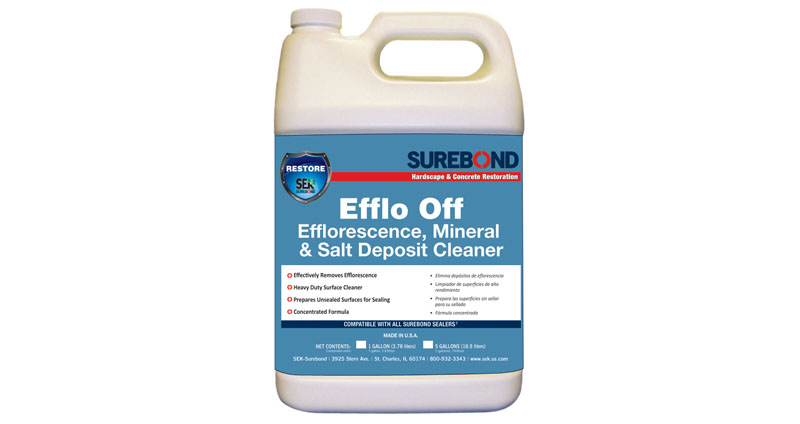 Efflo Off
Efflorescence, Mineral & Salt Deposit Cleaner
Effectively Removes Efflorescence
Heavy Duty Surface Cleaner
Prepares Unsealed Surfaces for Sealing
Concentrated Formula
Efflo Off is a buffered, non-acid, organic salts, technologically advanced concentrated cleaner designed for the removal of efflorescence, mineral and salt deposits from virtually any type of hardscape surface with minimal or no brushing. Efflo Off is mild but may be corrosive to certain woods, metals and plants.  Covering and protecting surrounding areas during application may be required. Efflo Off's unique Clean Rinse Technology allows residue to be quickly and easily rinsed away with a high or low pressure washer. Efflo Off's biodegradable and environmentally friendly phosphate free formula replaces several types of harsh acid cleaners and its alkaline nature will help neutralize acid based detergents and cleaners.
Suitable Surfaces
Ideal for concrete and clay pavers, concrete flat work and retaining walls. Can also be used on manufactured and natural stone, concrete block, and wet cast products. Works on both horizontal and vertical applications.
Efflo Off is compatible with all Surebond Sealers with proper dilution, dwell time and application. Misuse may cause damage to the sealer. A test area is always recommended to determine product suitability and compatibility with your specific surface before use and also if desired results are achievable.
Coverage
| Application | Sq.Feet | Sq.Meters |
| --- | --- | --- |
| All Surfaces | 100 – 200 | 9.3 – 18.6 |
Coverage rates will vary from 100-200 sf per gallon of dilution depending on the surface porosity, texture, severity of staining, application method and other local conditions. Coverage based on single treatment. Some applications may require additional treatments.
Click below to open up the tab to reveal more information.
Efflo Off Helpful Information