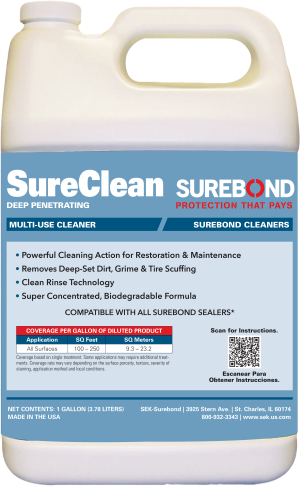 SureClean
Deep Penetrating Multi-Use Cleaner
Powerful Cleaning Action: Eliminates Deep-Set Dirt, Grime, Tire Scuffing and Environmental Soiling. Restores & Cleans a Surface Overall. Prepares Surface for Sealing.
Safe for Most Surfaces: Does Not Damage or Etch Surfaces with Proper Dilution. Replaces Harsh Acid-Based Cleaners. Helps Neutralize Acid-Based Detergents & Cleaners
Environmentally Friendly: Biodegradable
Super Concentrated Formula: Customize Strength to Match Cleaning Needs
Clean Rinse Technology: Dirt & Cleaner Residue Rinses Away Easily
SureClean is a concentrated, powerful, non-acid multi-use cleaner that dislodges deep set dirt, grime, tire scuffing and environmental soiling without damaging the surface when following dilution instructions.  Its biodegradable, environmentally friendly and phosphate-free formula safely replaces many harsh acid-based cleaners. Due to SureClean's alkaline nature, it will help neutralize acid-based detergents and cleaners.  After spot cleaning has been completed, SureClean can be used outside, on old and new, horizontal or vertical surfaces to clean overall and to prepare surfaces for sealing by creating optimal conditions for sealer adhesion and ultimate aesthetic value. SureClean's Clean Rinse Technology allows dirt and cleaner residue to be quickly and easily rinsed away with a low or high pressure washer. Because of SureClean's super concentration, one gallon of concentrated SureClean produces 36 gallons of ready to use cleaner at the standard dilution rate and will clean approximately 6500 square feet of surface. With proper dilution, it is safe to use on surfaces sealed with Surebond sealers.
Suitable Surfaces
Suitable for concrete and clay pavers, flat and stamped concrete, masonry, natural and manufactured stone, segmental retaining wall blocks, concrete walls and exposed aggregate. Can also be used on tile, terrazzo, stucco, vinyl and metal siding.  Safe to use on old or new surfaces in outside environments. Use caution on sensitive surfaces such as wet cast pavers and stamped concrete as it may cause damage to color of the surface. Test first to verify suitability, dilution rate and dwell time before cleaning the entire surface.
SureClean is compatible with all Surebond Sealers with proper dilution, dwell time and application. Misuse may cause damage to the sealer. A test area is always recommended to determine product suitability and compatibility with your specific surface before use and also if desired results are achievable.
Coverage Per Gallon of Diluted Product
| Application | Sq.Feet | Sq.Meters |
| --- | --- | --- |
| All Surfaces | 100 – 250 | 9.3 – 23.2 |
Coverage based on single treatment. Some applications may require additional treatments. Coverage rate may vary depending on the surface porosity, texture, severity of staining, application method and local conditions.
Click below to open up the tab to reveal more information.
SureClean Helpful Information