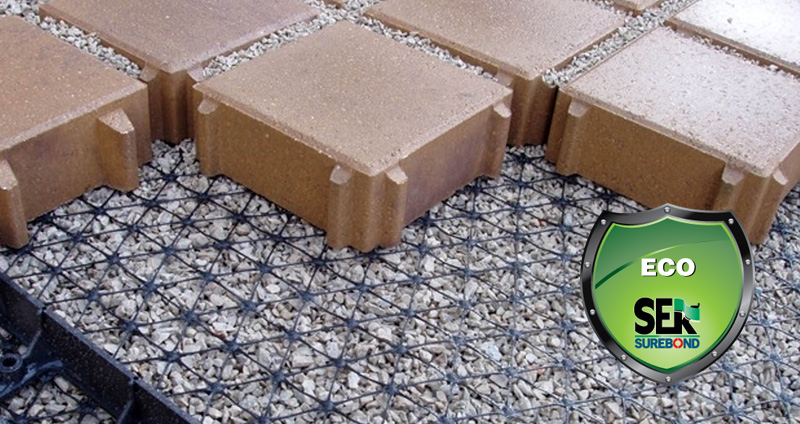 Innovative Solutions for Permeable Paver Installations: PermEdge & PermChip
Problems resulting from excessive water run-off such as pollution of our rivers, lakes and oceans and depletion of ground water resources inspired the creation of permeable pavers. Permeable pavers provide a "green" hardscape solution that allows water to infiltrate through the paver system. SEK-Surebond has been a pioneer in designing accessory products for permeable pavement installations.


PermEdge Permeable Paver Edge Restraint is a Proven Solution for Residential & Light Commercial Applications
PermEdge was created to avoid the high cost and cumbersome appearance of a concrete curb in residential and light commercial applications. PermEdge has the same great features of Snap Edge with the addition of a permanently attached geogrid anchor. The geogrid extends out from the edging and lies on top of the stone chip setting bed. The pavers are placed on top of the geogrid to hold the edging in place. This spike-less system provides an affordable edge restraint, requires no field assembly and is simple to install.
Spike-less PICP Edge Restraint
Fully Assembled with Geogrid Anchor Permanently Attached
One Piece Design for Straights & Curves
Made of 100% Recycled Material
 PermChip Permeable Chips Ensure Surface Infiltration in Both Commercial and Residential Permeable Paving Stone Installations
Perm Chip is the perfect choice for permeable paving stone installations, both as a bedding course and as a joint filler. It is a granite aggregate that is an extremely hard material and easily withstands the rigors of freeze/thaw cycles. It will not break down, helping to control runoff for years to come. PermChip is the right choice for both residential and commercial applications, including driveways, patios, walkways and parking lots.
Meets ASTM #9 Specification
100% Fractured Surface
Freeze/Thaw Resistant
Available in Three Different Colors
Click below to open up the tab to reveal more information.
PermEdge Helpful Information
PermChip Helpful Information