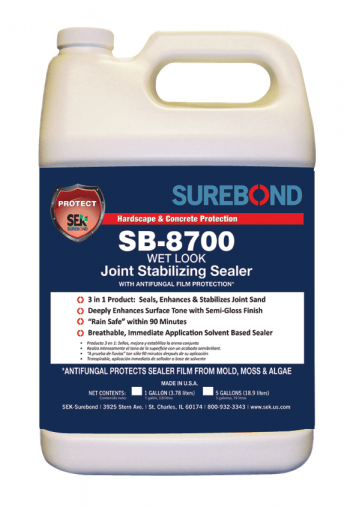 SB-8700 Wet Look
Joint Stabilizing Sealer
With Antifungal Film Protection
Multi-Purpose Product: Seals and Enhances Surface, Hardens Joint Sand
Antifungal Film Protection: Protects Sealer Film from Mold, Moss & Algae
Stain Resistant: Promotes Easier Cleaning & Maintenance
Stabilizes Joint Sand: Reduces Sand Washout, Weeds & Insect Infestation
Surface Enhancement: Deeply Enhances Surface Tone & Semi-Gloss Finish
Rain Safe in 90 Minutes: Minimizes Rain Affecting Your Sealing Schedule
Breathable, Immediate Application: Does Not Trap Moisture or Efflorescence
SB-8700 Wet Look Joint Stabilizing Sealer is a solvent-based advanced premium acrylic sealer that is 'rain safe' 90 minutes after application and will not yellow under exposure to sunlight.  It is recommended for outdoor use only, on old and new, horizontal or vertical surfaces to provide surface protection and stabilize newly installed joint sand in one application process. SB-8700 can be applied immediately after surface installation, as it is breathable and will not trap naturally occurring moisture or efflorescence. SB-8700 protects the surface from salts, acids and other corrosive chemicals as well as minimizes overall surface weathering and deterioration.  On a newly installed or restored surface, SB-8700 will deeply enhance surface tone with a wet look, semi-gloss finish and provide stain resistance which makes cleaning and maintenance easier.  SB-8700 is specially formulated with an antifungal designed to inhibit the growth of mold, moss and algae on the sealer film.  SB-8700 has the consistency of water and dries clear with semi-gloss finish. Cured sealer is freeze resistant to -60°F (-51°C) and is stable up to a temperature of 180°F (82°C).
Joint Stabilizing Sealers can be used just as a sealer for pavers, concrete and other masonry surfaces without joint sand stabilization.
Suitable Surfaces
Suitable for concrete and clay pavers, flat and stamped concrete, masonry, natural and manufactured stone, segmental retaining wall blocks, concrete walls and exposed aggregate. Ideal for shaded areas, pool decks and outdoor showers where mildew, fungus and algae are a concern.  Safe to use on old or new surfaces in outside environments. Not recommended for granite, marble, asphalt, glazed or ceramic tile. Test first to verify performance and appearance before applying.
A test area is always recommended to determine product suitability and compatibility with your specific surface before use and also if desired results are achievable. Due to the inherent variability of natural stone and clay products, long term performance may vary. Please consult with us prior to sealing if there are concerns.
Coverage
| Application | Sq.Feet | Sq.Meters |
| --- | --- | --- |
| Sealing with joint stabilization | 80 – 120 | 7.4 – 11.1 |
| Sealing only without joint stabilization | 150 – 250 | 13.9 – 23.2 |
Per gallon. Single application. Actual coverage may vary depending on the type, age, condition, joint size and porosity of the surface, application method and site conditions such as temperature. For a more uniform coverage or if desired, a second coat may be applied after first coat has dried to the touch.
Click below to open up the tab to reveal more information.
SB-8700 Helpful Information