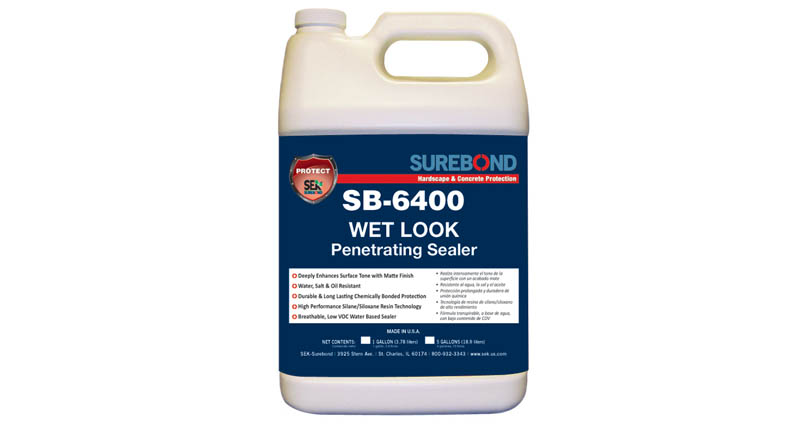 SB-6400 Wet Look
Hybrid Sealer
Surface Enhancement: Deeply Enhances Surface Tone with Matte Finish
Chemically Bonded Protection: Surface Penetrating, Long Lasting & Durable
Silane/Siloxane Water-Based Resin Blend: Repels Water, Protects Surface from Salt Attack, Non-Hazardous and VOC/EPA Compliant
Breathable, Immediate Application: Does Not Trap Moisture or Efflorescence
SB-6400 Wet Look Hybrid Sealer is a unique water-based hybrid blend of silane/siloxane and proprietary polymers that chemically bond to the surface and repel both water and oil.  It can be used indoors and outdoors, on old and new, horizontal or vertical surfaces. SB-6400 can be applied immediately after most surface installations, as it is breathable and will not trap naturally occurring moisture or efflorescence. On new concrete, SB-6400 should be applied once concrete is fully cured (30 days after installation). SB-6400 will seal and enhance the beauty of new and old surfaces by enriching/darkening surface tone and color contrast with a natural looking matte finish. SB-6400 protects surfaces from water penetration and salt damage from the use of de-icers or exposure to salt air. Due to its superior water repellency, SB-6400 helps to reduce biological growth such as mold, moss and algae. It is non-hazardous and VOC/EPA compliant. SB-6400 has the consistency of water, is milky white when applied and dries transparent with matte finish. Cured sealer is freeze resistant to -60°F (-51°C) and is stable up to a temperature of 180°F (82°C).
Suitable Surfaces
Suitable for natural and manufactured stone containing quartz or other silicas. Can also be used on concrete and clay pavers, flat and stamped concrete, masonry, segmental retaining wall blocks, concrete walls, exposed aggregate, grout, unglazed tile and terra cotta. Safe to use on old or new surfaces in both inside and outside environments. Not recommended for granite, marble, asphalt, limestone, slate, agglomerate tiles, glazed or ceramic tile. Due to the inherent variability of natural stone and clay products, performance may vary. Test first to verify performance and appearance before applying.
A test area is always recommended to determine product suitability and compatibility with your specific surface before use and also if desired results are achievable. Due to the inherent variability of natural stone and clay products, long term performance may vary. Please consult with us prior to sealing if there are concerns.
Coverage Per Gallon
| Application | Sq.Feet | Sq.Meters |
| --- | --- | --- |
| Natural Stone & Clay Pavers | 200 – 400 | 18.6 – 37.1 |
| High Density Concrete & Pavers | 200 – 400 | 18.6 – 37.1 |
| Low Density Concrete & Pavers | 50 – 200 | 4.6 – 18.6 |
Coverage based on two coats applied wet-on-wet. Use approximately two thirds of the estimated amount on the first coat and one third on the second ensuring saturation. Actual coverage may vary depending on the type, age, condition, porosity of the surface, application method and other local conditions such as temperature & humidity.
Click below to open up the tab to reveal more information.
SB-6400 Helpful Information