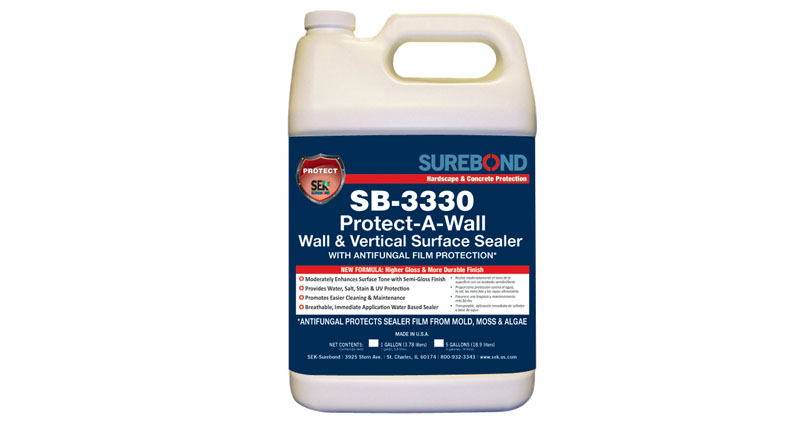 SB-3330 Protect-A-Wall
Wall & Vertical Surface Sealer
This product has been discontinued however limited inventory may still be available.
SB-7700 Enhanced Look Gloss Finish is the appropriate product replacement.
Moderately Enhances Surface Tone with Semi-Gloss Finish
Provides Water, Salt, Stain & UV Protection
Promotes Easier Cleaning & Maintenance
Breathable, Immediate Application Water Based Sealer
*ADDED ANTIFUNGAL PROTECTS SEALER FILM FROM MOLD, MOSS & ALGAE
SB-3330 Protect-A-Wall is a water-based, single component, acrylic co-polymer sealer specially formulated with an antifungal designed to help inhibit growth of mold, moss and algae on the sealer film when applied on vertical hardscape surfaces. SB-3330 protects surfaces from salts, acids and other corrosive chemicals as well as help to minimize overall surface weathering and deterioration. SB-3330 has the consistency of water and is milky white in appearance when applied and dries clear, creating an enhanced look with semi-gloss finish. SB-3330 is non-hazardous and VOC/EPA compliant. It can be used indoors and outdoors on both new and old surfaces. SB-3330 can be applied immediately, as its unmatched breathability will not trap efflorescence. SB-3330 is a single application product. Cured sealer is freeze resistant to -60°F (-51°C) and is stable up to a temperature of 180°F (82°C).
Suitable Surfaces
Ideal for retaining walls, concrete & masonry block walls, stucco, cultured & manufactured stone walls, and cast in place & pre-cast concrete walls.
Coverage
| Application | Sq.Feet | Sq.Meters |
| --- | --- | --- |
| Walls | 100 – 200 | 9.3 – 18.6 |
| Concrete | 100 – 400 | 9.3 – 37.2 |
| Masonry | 100 – 300 | 9.3 – 27.9 |
| Cultured/Manufactured Stone | 100 – 300 | 9.3 – 27.9 |
Per gallon. Single application. Actual coverage may vary depending on the type, age, condition, porosity of the surface, application method and other local conditions such as temperature & humidity.
Click below to open up the tab to reveal more information.
SB-3330 Helpful Information