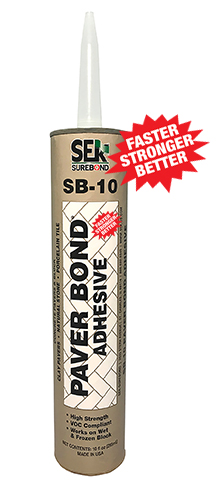 SB-10 Paver Bond Adhesive
High Strength Structural Grade Hardscape Adhesive
Field proven performer used in commercial & residential projects for over 25 years
Higher Strength Adhesion
Faster Setup
Rigid & Durable
Can Be Applied on Wet & Frozen Block
VOC Compliant
A field proven performer, SB-10 Paver Bond is a fast set up, quick curing, high strength, structural grade adhesive. It will adhere well in extreme conditions such as temperatures ranging from 0° – 100°F, and frozen and/or damp substrates. SB-10's superior durability will withstand extreme wear and tear including heavy vehicular traffic. It helps to level and shim and can be applied easily with a standard caulking gun.
SB-10 is now available in new 20 oz. sausage style packaging. Click here to learn more.
Uses
Ideal for Caps, Steps, Columns, Seat Walls, Retaining Walls, Grill Surrounds, Outdoor Kitchens, Paver Installations, Coping Systems and any exterior hardscape application where a high strength bond is beneficial.
Suitable Surfaces
Suitable for concrete pavers & block,  clay pavers, coping systems, masonry and brick, natural and manufactured stone, slate and porcelain tile. Also bonds to other building materials such as treated lumber, aluminum foil back sheathing, gypsum, fiberglass and composite decking materials.
Coverage*
| Bead Size | 10.3 fl. oz. | 28.0 fl. oz. |
| --- | --- | --- |
| 1/8" bead | 103 linear feet | 288 linear feet |
| 1/4" bead | 26 linear feet | 86 linear feet |
| 3/8" bead | 13.5 linear feet | 38 linear feet |
Click below to open up the tab to reveal more information.
SB-10 Paver Bond Helpful Information