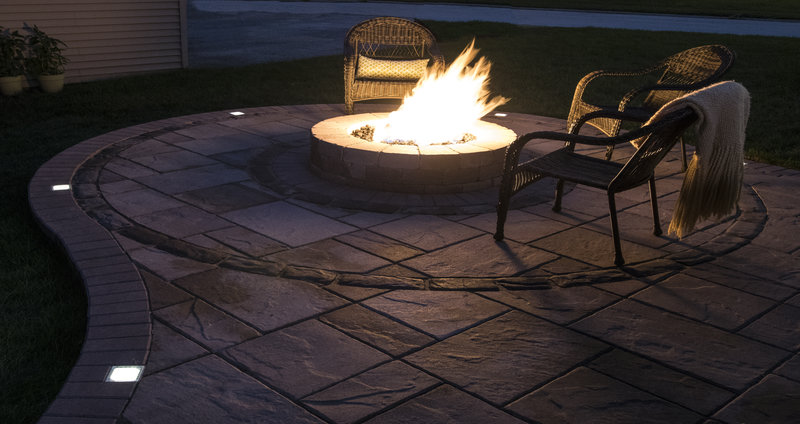 Illuminate Outdoor Areas with StarLites…New Solar LED Lights
We are proud to introduce our newest addition to the Kerr Lighting product line:  StarLites Solar LED Lighting.  StarLites use the latest in both solar and LED technology to enhance hardscapes and outdoor areas.  StarLites are very durable and easy to install.  Four shapes and sizes are available in a warm white light color.  Cool white, red, green, blue and yellow light colors are also available by special order.
Not Your Ordinary Solar LED Lights:
Top Quality Maintenance Free Lighting Solution with No Extra Installation or Operating Costs
Extremely Durable Contractor Grade Design Available for Residential & Commercial Use
Easily Installs into New or Existing Patios, Walkways, Driveways & More
Features That Are Out Of This World:
Powered by a double layer capacitor that will never need to be replaced
Work in extreme temperatures without degradation: -40°F to +140°F
Long-life LED Source
Stainless steel light fixture with UV resistant polycarbonate lens
Self-contained light with no exterior wiring
100% waterproof with an IP68 rating
Two year warranty from manufacturer defect
Available as individual self-contained light fixtures or in case quantity.
Click below to open up the tab to reveal more information.
StarLites Helpful Information
Round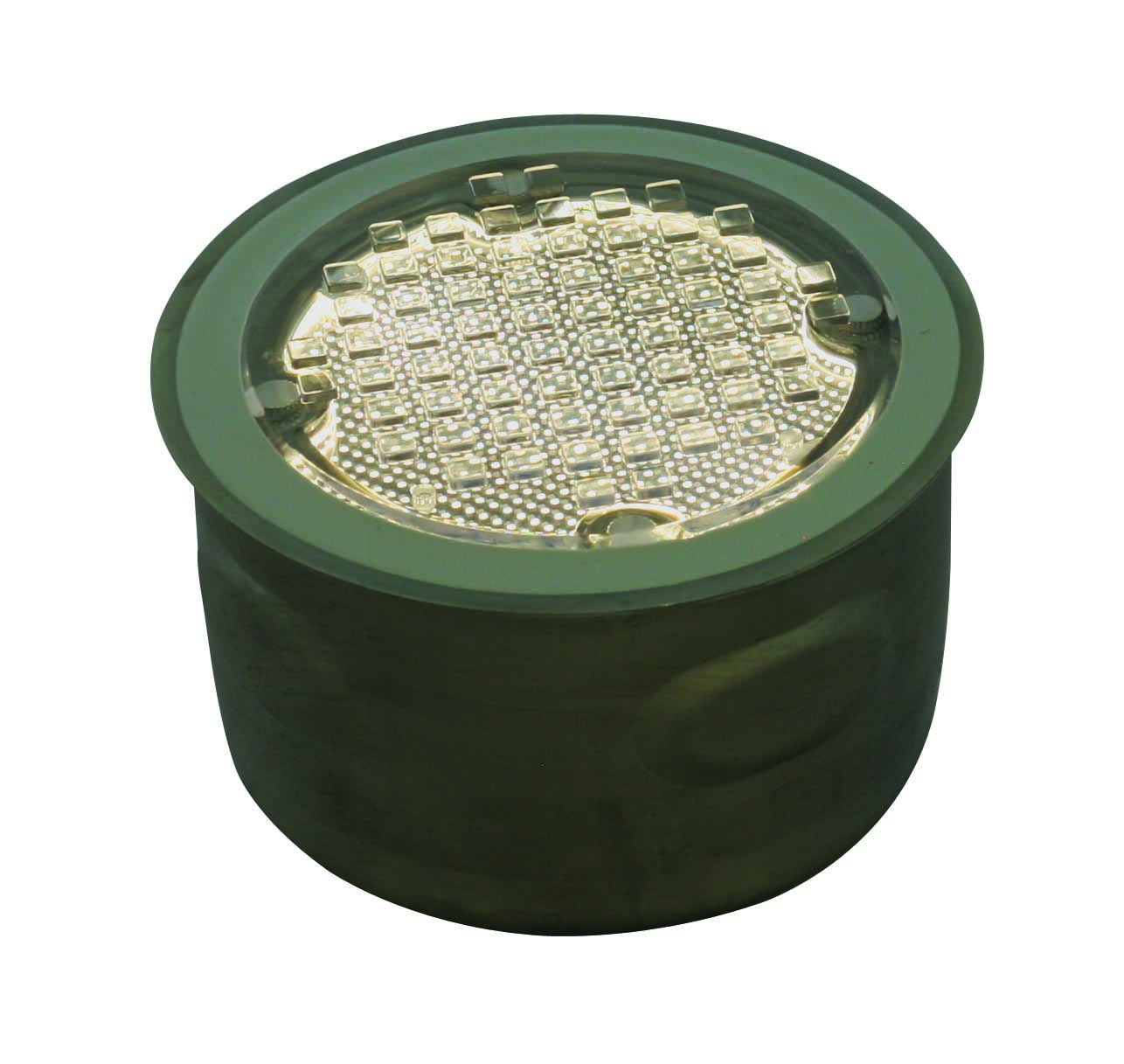 4.2" diameter x 2.6 (d)
(107 x 66mm)
Small Square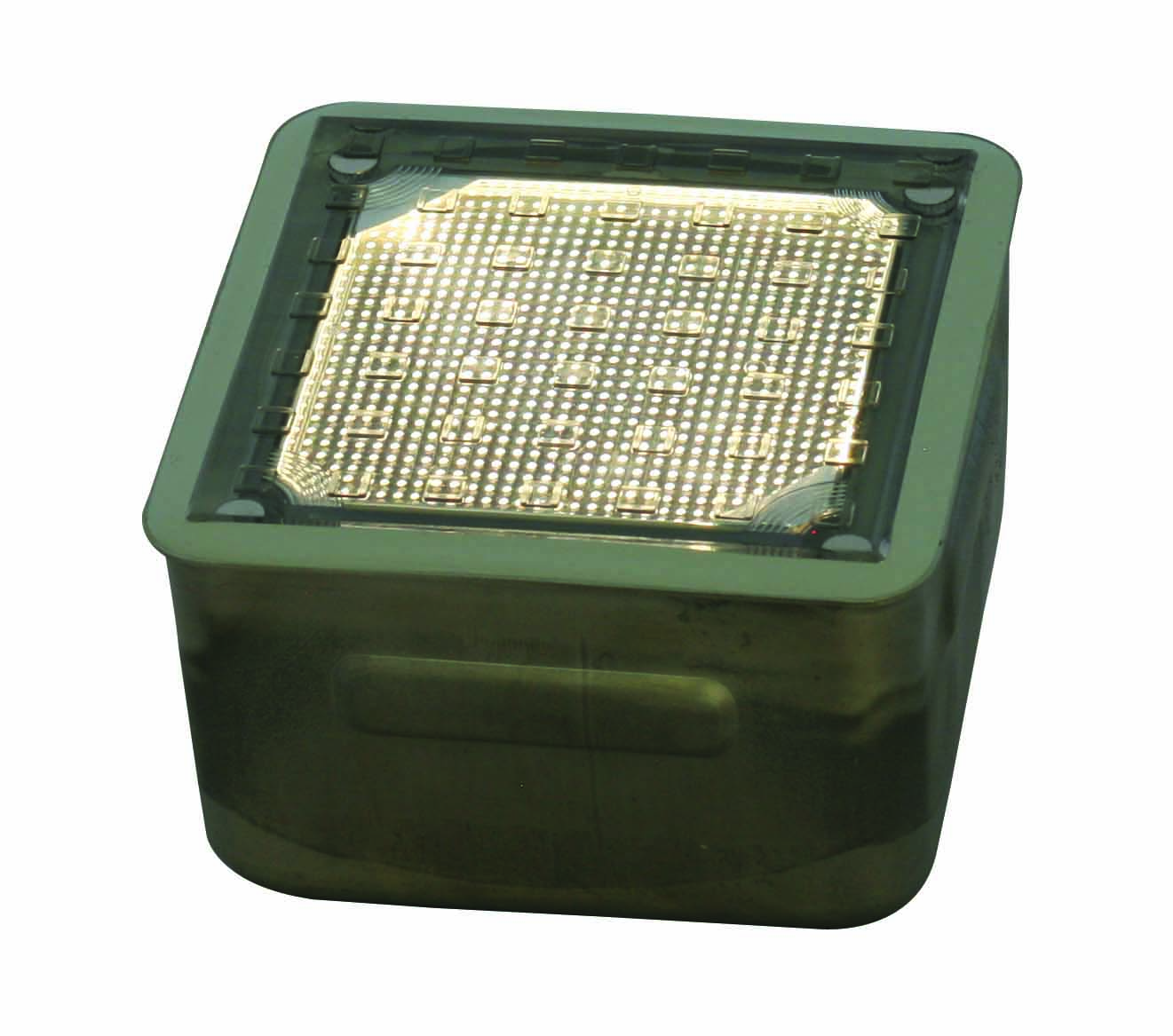 3.8" (l) x 3.8" (w) x 2.3" (d)
(97.5 x 97.5 x 58.5 mm)
Rectangle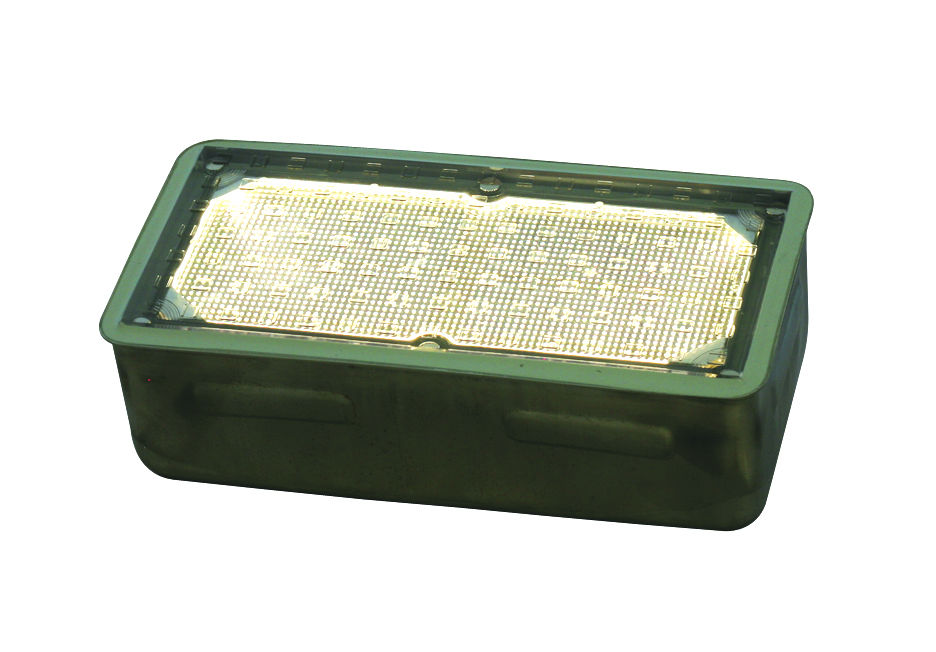 7.8" (l) x 3.8" (w) x 2.3" (d)
(197.5 x 97.5 x 58.5 mm)
Large Square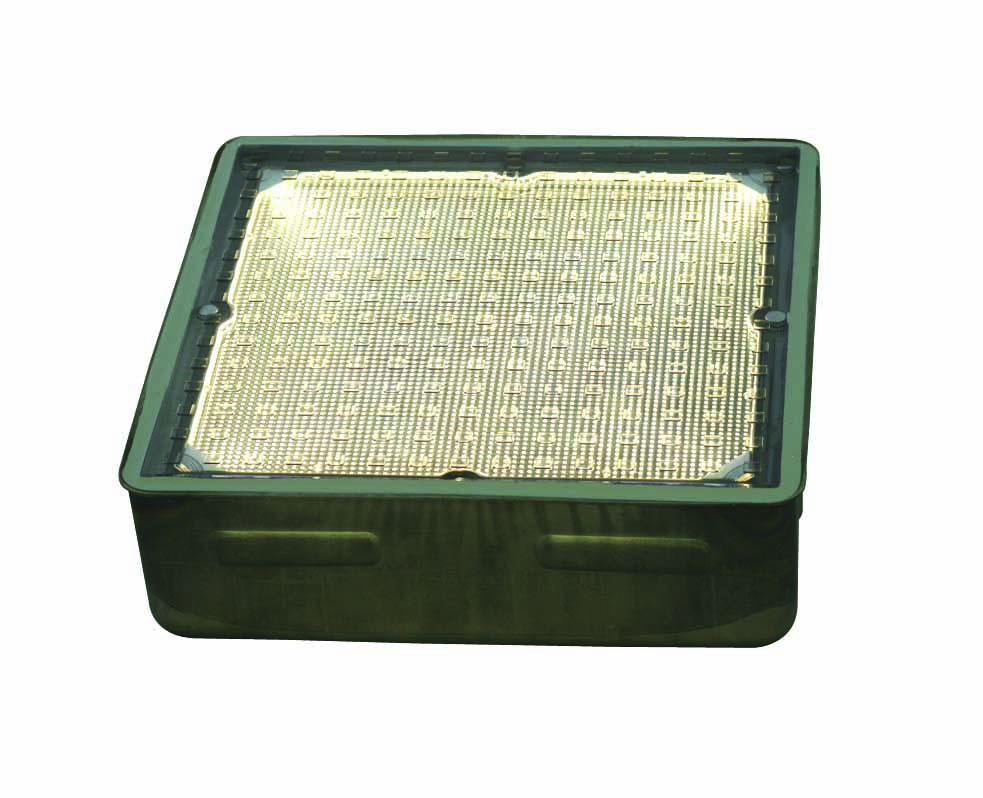 7.8" (l) x 7.8" (w) x 2.3" (d)
(197.5 x 197.5 x 58.5 mm)

In Stock Light Color:  Warm White (3000 – 3500 Kelvin)
Special Order Light Colors:  Cool White (5000-5500 Kelvin), Red, Green, Yellow, Blue
Q:  Will StarLites replace my concrete pavers?
A: Yes, they are direct replacements for standard Holland style 4×8 concrete pavers, double Holland 8×8 pavers or 1/2 Holland 4×4 pavers. They also can be integrated into most other concrete paver designs with a little custom cutting of the concrete paver.
Q:  Will StarLites work in the winter?
A: Yes, they will work at a temperature of -40° F as long as they are not covered in snow. Snow cover will inhibit their ability to receive an energy charge from the sun.
Q:  Will shoveling the snow or using a snow blower over the lights damage them?
A: The lens is made of polycarbonate. After years of shoveling or riding over the lights with a snow blower the lens surface will take on a frosted glass appearance, however the lights will continue to function.
Q:  Can I drive over the lights if installed in my driveway?
A: Yes, StarLites can be driven over with passenger vehicles as they have compression strength in excess of 20 tons.
Q:  Can StarLites be installed under water without being damaged?
A: Yes, the lights are rated IP68 which means they are 100% water proof.
Q:  Can I replace the LED lights once they burn out?
A: No, since the lights are designed to be waterproof they cannot be opened up for LED light replacement.
Q:  Is the lens surface slippery?
A: The lenses have many raised, square shaped bumps on them which helps to create a slip resistant surface.
Q:  Will the lenses be damaged from exposure to the sun?
A: The lenses are coated in an UV protectant to lessen the negative effects of long term exposure to the sun.
Q:  Can StarLites be installed in vertical applications?
A: In most cases the answer is yes, but since the lights need exposure to the sun in some applications there may not be enough exposure to the sun. StarLites installed vertically will charge best if they are facing south. On a vertical surface, they should not be installed under an overhang where the overhang causes a shadow on the lens (solar panel). Vertical applications where the light will face the east, west or north may still work because the ultra-capacitor is much more sensitive than a battery and it also has the ability to charge much quicker. The ultra-capacitor may pick up enough charge to stay lit for several hours. It is easy to test a StarLite by placing it in the area you wish to install the light. Keep the light in place for a minimum of 2 days since StarLites work best on the second day of exposure to full sun.
Q:  What is the lumen output of StarLites?
A: We do not measure the lumen output of StarLitesbecause they are designed to accent hardscapes, improve safety and promote area delineation and are not meant to cast light or illuminate objects. In addition, because they are solar powered the wattage is limited due to the size of the integrated solar panel.
Q:  What is a Kelvin rating and how does that relate to StarLite's white light Kelvin ratings?
A: Kelvin rating relates to the color temperature of light. LED color temperature measures the color of an LED light bulb. It defines the amount of pure white, yellow, red and blue in a light. Another way to think of the color temperature is how 'warm' or 'cool' is the white LED light bulb. Color temperature is measured in degrees Kelvin and is a measure of the part of the color spectrum that is found in light.
StarLites 'Warm White' light color rates at 3000 – 3500 Kelvin which is similar to lamps and fixtures found in your home and office. The 'Cool White' light color rates at 5000 – 5500 Kelvin which is similar to daylight when the sun is directly overhead.
Q:  I have nearby landscape lighting, what is the light level that will cause StarLites to not turn on (light up)?
A: StarLites will not light up or will turn off at a light level of approximately 100 – 110 Lux.
Q:  What is a double layer capacitor and why is it important?
A: Unlike the rechargeable batteries commonly found in consumer grade solar lighting sold at 'Big Box' stores, StarLites use ultra-capacitors as the energy storage device. The ultra-capacitor never needs replacement and functions without any degradation in performance from -40°F to +140°F, making StarLites ideal for installation in both warm and cold winter climates. Since StarLites do not require battery replacement, they are the only true maintenance free option for installation in the ground.